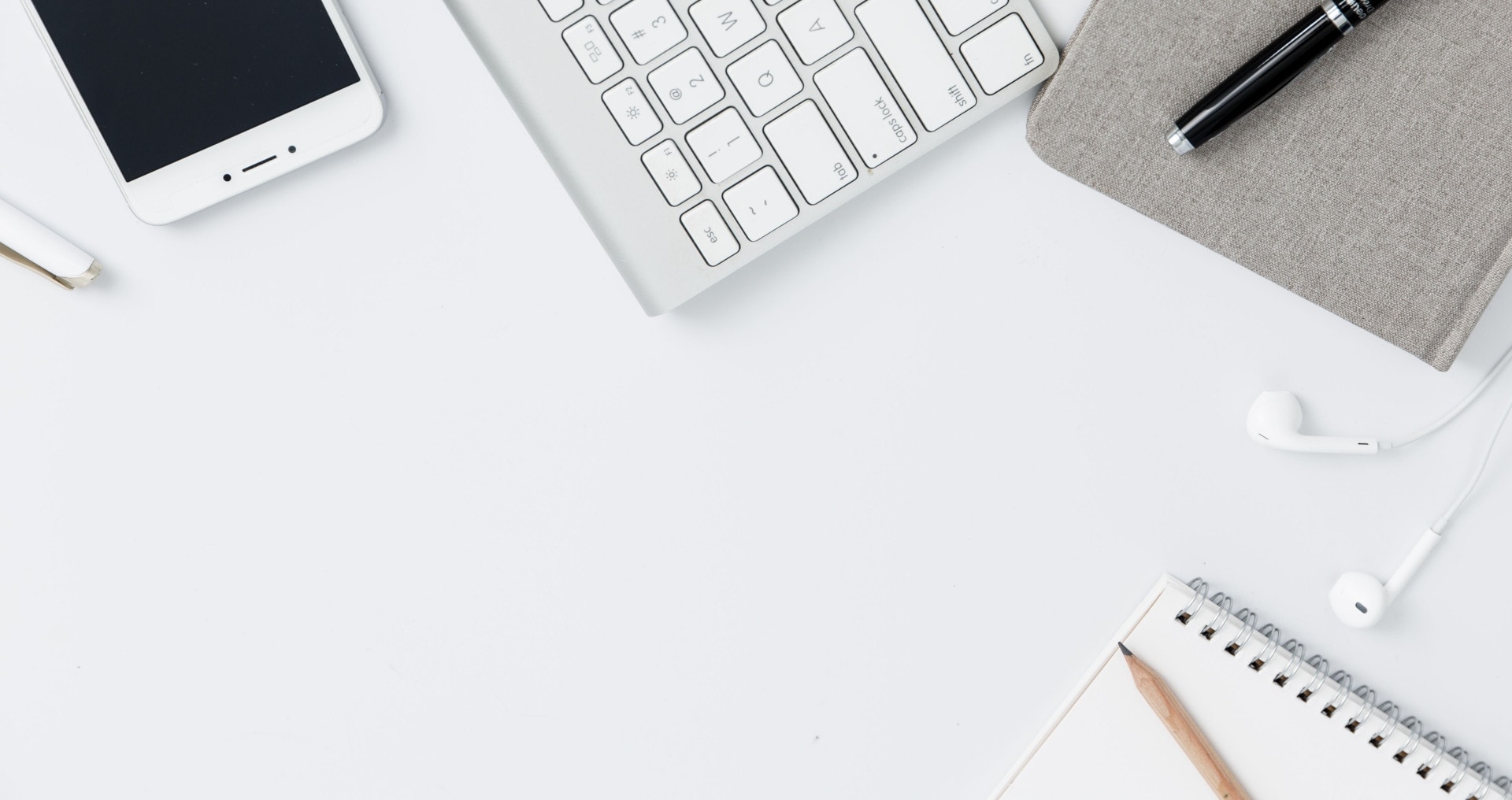 Local Search Engine Optimisation
Managed Web Services offer a range of local SEO services to help your business feature prominently in Local Search. Ensure that your business is competing locally by making sure your website is fully optimised for local business SEO. Managed Web Services can help your business feature in Google's local pack so that your business stands out from the rest in the search results .

Display your business in Googles' Local 3-Pack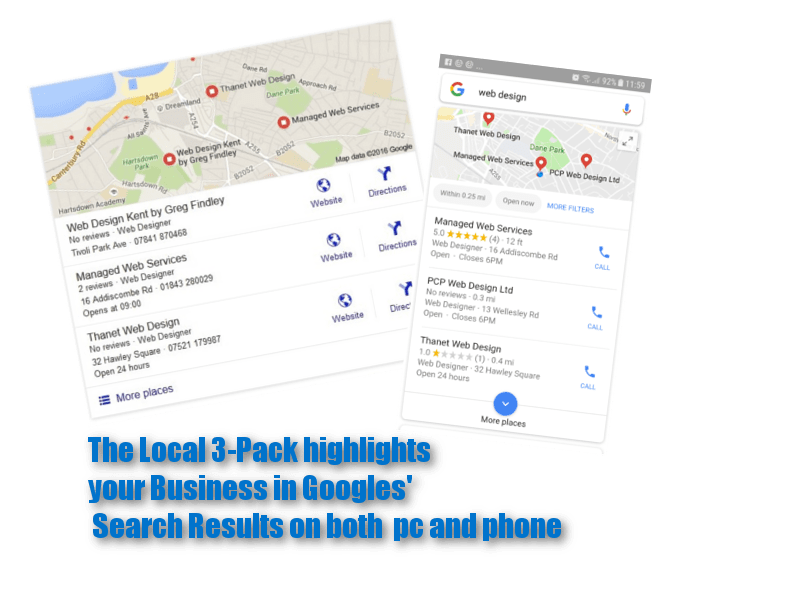 The local pack is a list of three search results that Google highlights on their results page. The results are based on Google Maps. Google uses your location to display the three nearest results to the searcher in the local pack. To make sure that Google knows your location it is important to register your business with 'Google My Business'.The results are displayed under a map which shows the physical location of each listing. When viewed on a computer each listing shows the name, address, and current hours, along with a website link and directions. When viewed with a phone each listing shows the name, address, and current hours and a click to call link. When you click or tap on an individual listing it will open up the 'Google My Business' (GMB) panel.
Why is the Local 3-Pack Important?
According to Google:
4 out of every 5 consumers use search engines to find local information.
50% of consumers who conducted a local search on their phone visited a shop within a day, and 34% who searched on computer/tablet did the same.
Local searches lead to more purchases than non-local searches. 18% of local searches on phone lead to a purchase within a day vs. 7% of non-local searches.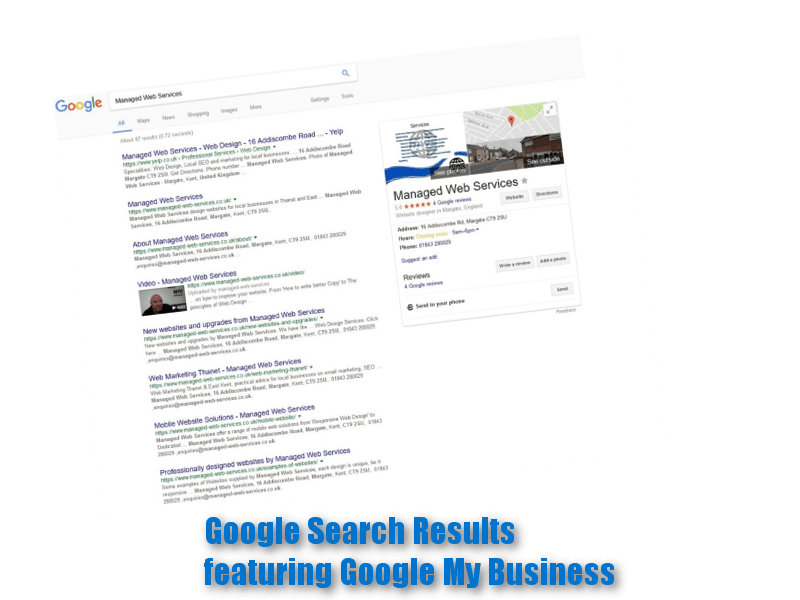 To ensure that your business is competing locally we can assist your business with the following:
1. Register your business with "Google My Business"
Get your business listed with "Google My Business." Set up a Google Account so that you can use Google's verification procedure to claim your free business listing on Google My Business. This is essential if you want your business to feature on the Google Local 3-Pack and Google Maps. Managed Web Services will help to optimise your Google My Business page, this includes uploading your logo, pictures of your business and products, your office/business hours, types of payments accepted; including a keyword-rich business description and any other fields available. You can also add videos and powerful video testimonials. By adding all of this information, you can differentiate your business from your competitors who either haven't verified their listing at all or have opted for the easy way out by providing only basic information about their business.
2. Ensure that you have a high Quality Website
Successful local SEO depends upon having a website that is correctly search engine optimised. It is also essential that your website is Mobile-Friendly if you want to feature in the local pack. Google will not show poor quality websites in its search results or the local pack. Managed Web Services provides a comprehensive range of SEO services to ensure that your website performs well in all major search engines.
3. Use Schema mark-up to Optimise your Website



We use Schema mark-up to optimise your website for local SEO. Schema helps inform the search engines about the content of any particular webpage. Schema can identify you as a local business. Schema is essential in creating rich snippets which appear on the search results pages. Rich snippets enhance your website's click through rate. Schema is also a vital element in optimising your website for voice search.

4. Ensure Consistency across platforms
Being consistent in the information that you provide and the way that you provide it, is essential if you want to rank in the local pack. Ensuring that your NAP (name, address, and phone number) are the exactly same every time you use them anywhere online. NAP provides a strong ranking signal for local search so it is vital that the information you provide is not only consistent but that it is provided in a consistent format as well.
5. Write local content
As a local business you need to focus on creating local content for your website. This could include regular blog posts that mention news, local events and activities going on in your area. It could include promotions or specials you're having at a particular business location and so on. If you have multiple locations, we can help you set up a unique page for each of your locations. There are other local elements to consider such as providing an on-page Google map showing your location or mentioning local landmarks to help with directions to find your business.
6. List your business with online Business Directories
Register your business with high quality directory and database sites that are relevant to your business. These sites will add value to your users and customers. . Listings and local citations from online business directories such as Yelp, Yell, Thomson Local and many others, are a great way to get backlinks to your website. Additionally, many of these citation sites have credibility with Google, a business's listing on these sites can help improve your business's search engine ranking. Registering your business with Online Directories can be very time consuming, each directory has a slightly different requirement or needs the information in a different format. Managed Web Services understand the problem and the need for consistency across the different platforms. It is essential to be consistent, to use the same wording in the same format to describe your business and the services and products that you offer on every site that your business is registered with.
7. Get more 5-star Reviews


Online reviews are becoming more important than ever for local SEO. Not only do online reviews help with higher local rankings, but positive reviews also help you gain customers' and potential customers trust. Managed Web services can show you how to gain more reviews and how to manage any negative reviews that you might incur. Reviews are vital to your business's presence in the local three pack. They're one of the most important ranking signals for inclusion in the local three pack.
Why are Reviews Important?
People trust reviews. 88% of consumers trust online reviews as much as personal recommendations.
People read reviews. 92% of customers read reviews of businesses online on a regular basis.
80% of customers say they will leave a review when asked, so it is worth asking for reviews from satisfied customers.