Welcome to
Managed Web Services
Providing Web Design & SEO for Local Businesses in Thanet & East Kent
All our Websites are optimized for Voice Search & Google's  'Mobile First Index'

Did you know that 46% of voice search users look for a local business on a daily basis. All of our Websites are fully optimized for voice search as standard.

Enable your customer's to speak to you live or by using an Automated Bot when your'e not available

We protect your Website against Cyber attacks and provide regular updates and backups as standard
All of our websites run on fast servers as standard. Our webservers are fast because they have more processor cores and more memory than standard webservers. Our websites are hosted using mirrored NVMe Solid State Drives which are around 10x faster than standard solid state drives.  That means that your website will be much smoother and run faster to ensure a better user experience for your customers and web users.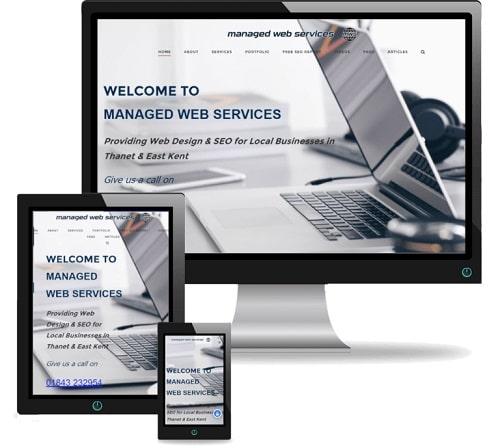 If you are looking for a quick quote for a new or upgraded website. Please use the chatbot provided on this page.
"Working with Managed Web Services has been a great experience. MWS has been instrumental in helping us navigate the complicated waters of SEO. Jeremy is also an excellent copy writer and has helped crystallise our thoughts and present them simply, effectively – and without the jargon!"
" Fantastic service from Managed Web Services – any changes required and they usually sort them out either on the same day or as soon as they can. I have found Managed Web Services's advice very good. I would highly recommend Managed Web Services for SEO and web design and hosting."
"What I liked about Managed Web Services is the personal touch: you get a dedicated web designer. They not only design your website but advise you on how to market it as well."